This is getting fookin' ridiculous
At 2:30 a.m. on Thursday the 14th, it will have been exactly two months since my front door was partially kicked in as a result of what I'm pretty sure was an abortive attempt at home invasion (scroll down to older blog posts for details). Here's what looked like the night of the incident.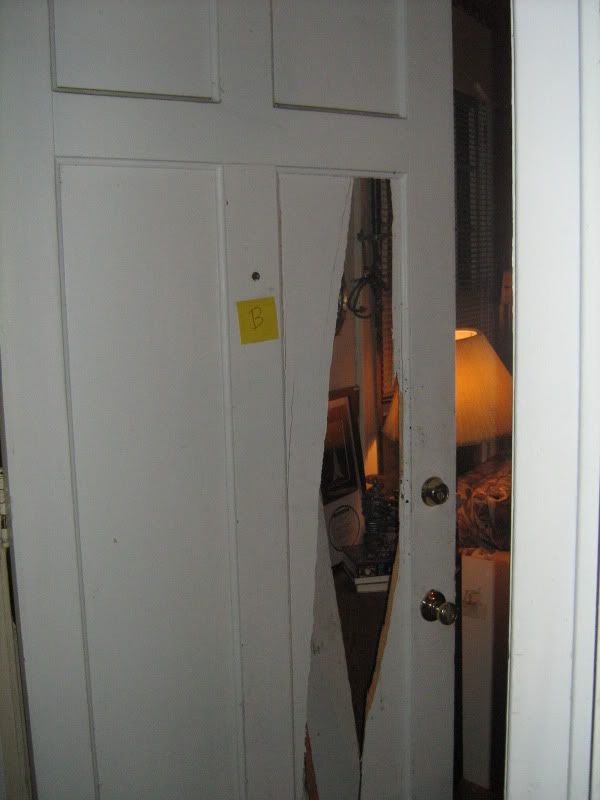 Here's what it looked like on the afternoon of Saturday, November 14th, 2009, after my landlord had taken "temporary" measures to fix it. That's a sheet of hurricane board he bolted over the smashed panels.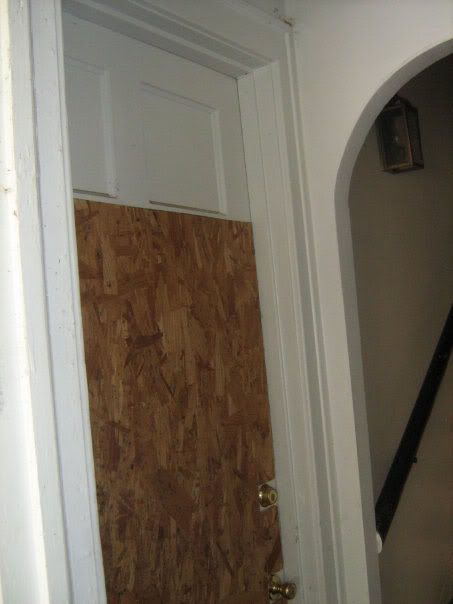 Well and good, as temporary solutions go. It's sturdy and secure and works as a door and, back in November, wasn't too drafty. Only problem; it's still like that. My landlord has claimed, several times, that he's having a local cabinet maker construct new panels, as it's an old and unusually tall door and he can't just go out and buy a replacement without spending "thousands" of dollars. I told him I understood that the process takes time, and didn't worry about it for a while, but TWO MONTHS? It's especially outrageous now that we're in a major cold spell and the door is got to be leaking heat.
My landlord is Charles H. "Skipper" West, of West Realty at 843 W. Market Street, Greensboro, NC 27401. I like Skipper. He can be forgetful and negligent when it comes to non-essential repairs, but in the past, he's always responded quickly to essential ones. Plus he's told me wonderful stories about my great-uncle Olan Barnes, who owned the "haunted" house at the corner of Friendly and Holden that I wrote about in the Halloween issue of
Yes! Weekly
two years ago. If not for Skipper, I would never have known that my great-uncle was infamous for "moonshine and chicken fight Saturday nights" that would draw folks from miles around back in the 1950s, as none of my relatives ever told me about that.
Despite what sometimes seems like laxity on his part, I wouldn't call Skipper a slumlord like the Agapians and he's never demonstrated a Chaney Properties style contempt for his tenants . I like his daughter Kathryn and his wife Pat and his business manager Ruby. But this is getting inexcusable.
I've reminded Skipper about the door on several occasions. I've mentioned it to Ruby, who's promised to "light a fire" under him. At the beginning of this month, I wrote him a letter stressing my complaints and saying that some adjustment was going to have to be made to the rent if this problem wasn't fixed, but he has yet to respond to it.
I really like the neighborhood in which I live, despite the sometimes annoying students, which (along with my own financial fecklessness) is why I've remained a renter all this time. I really like this apartment, despite its age and need for repairs. But this is testing my patience.